Istanbul is incredible. Home to breathtaking architecture, delicious food, and some of the warmest, most genuinely hospitable people I have ever met on my travels, it's a city I would love to visit again and again. Even though Turkey is a Muslim country, it had nothing in common with other Arabic countries I have been to except for its religion. Turkey is less conservative, much more open to western culture, and more developed towards European style rather than Middle Eastern style. It was a breath of fresh air arriving in Istanbul and witnessing the liveliness of the city that acted as a hub between 2 continents.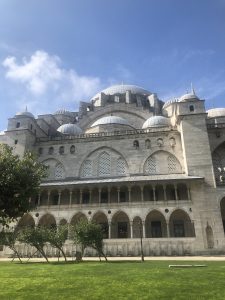 I had decided to take a break from my banking job and wanted to get away for a solo short trip without much visa hassles. And since with a valid American Visa, Turkey was just a click away it was one destination best suited. I had transited Istanbul airport in many of my travels and the city from the airplane above looked so mesmerizing dreaming one day I will be there. I grabbed this opportunity to solo travel for 10 days here. Another important reason for this trip was to visit Rumi's mausoleum in Konya since I followed him a lot. Spring (March-May) is the best time to visit Istanbul, followed by Autumn (September-November). Crowds are thinner and the weather is moderate during both seasons, though Autumn sees more rain than Spring. I went in late September and the weather was a little warm for the day. Pack a lot of cottons if you heading in summer here and a pair of jeans.
It was an early morning flight from Mumbai and I landed at the busy new terminal of Istanbul by evening. One thing I learned from flying to Istanbul is that a flight at 6 30 AM meant that you would not get any sleep that night. I had to check my bag in at 4 am, go through immigration, and waited for the boarding call at 5 am. I arrived around 5 pm in Istanbul. Navigating here was easy but be prepared for long walks to the immigration center. As I waited out to check on the private transfer which was to pick me up I could already sense the city was in traffic peak hours of the evening. Metro is the best and quickest way to move around here. Most of the tourists stay up in Taksim as it's hip and party place but I had a hotel booked a little away from the touristy places. It was a short walk away from here to catch the ferry for Bosphorus and other places. It is a good idea to avoid frenzy crowds. I stayed up at the Galata Istanbul Hotel near Galata Tower. Very well located, friendly staff and spacious rooms. Security is their top priority and it really showed. They give you free breakfast and also run a cafe on the side. I always found myself sitting in the cafe, sipping coffee while watching all kinds of people walked through the Galata street.
The sleepy tired me arrived at the hotel to check into my cozy room and met my guide (Ibrahim, I used to call him Ibby) there who seemed well experienced and friendly. I knew the next 10 days would be fun. I went straight to the room, changed and went for a dinner by the cafe along walking the Bosphorus bridge connecting west to east.
The next day was a beautiful sunny one to begin after a good night slumber, as I sat at the hotel's restaurant deck with breakfast watching the sea and ferries go by. Never miss a Turkish breakfast, which has the best collection of cheese, olives, and tea. Quickly I went to meet my guide at the time decided, and I was introduced to this Australian group who was along with me for this trip. They were all friends for long and traveling for almost two months. I was happy to know I will have some interesting company there. Our first stop for the day was Suleymaniye Mosque. Please make sure you carry a small scarf to cover your head here as it's compulsory in these mosques thou they provide one it's better to have your own. Also, cover your legs and arms. No short skirts, sleeveless, shorts allowed for women in. We need to respect their culture and customs.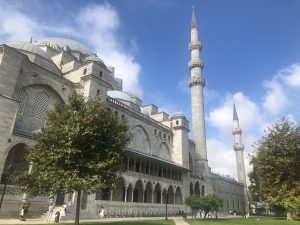 If You Don't Visit the Süleymaniye Mosque, You'll Regret It Later. The Süleymaniye Mosque (Süleymaniye Camii) is not only stunning; in my opinion, it is also the masterpiece of the famous architect Sinan (Mimar Sinan). Sure, the Blue Mosque is the most famous one and therefore better known among the tourists. The Süleymaniye Mosque, crowning Istanbul's highest hill, doesn't suffer from that huge, constant flow of visitors
An atmosphere of unpretentious plainness strikes one when entering the mosque. But when you actually step in through the door, it bemuses you with its mesmerizing interior design features. There are four different columns inside all brought from different places all around the world. Among these are Istanbul's Vefa district and Topkapı Palace, as well as the Baalbek Temple and the City of Alexandria. The dome has a height of 53 meters and a diameter of 27.5 meters. The mosque is perfectly designed in terms of natural lightening which is provided through 32 windows. Since it has great acoustics, sounds can be heard from every corner. It is known that it is those empty pots under the domes that partially explain why the acoustics are so good.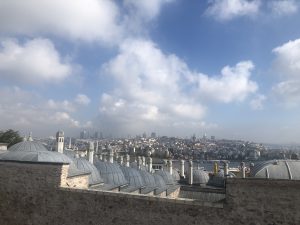 Enjoy the well-maintained gardens, pass the ablution facilities, and walk into the courtyard. You'll find an ablution fountain in the middle of the Garden. Behind the mosque are a graveyard and two mausoleums, including the beautifully restored tombs of Sultan Süleyman I, his wife Roxelana, his daughter Mihrimah, his mother Dilaşub Saliha and his sister Asiye. Just outside of the mosque walls, at the front, is the tomb of architect Sinan.
The latter is however not open to the public. Don't miss taking some amazing pictures from up here. This is next to the Spice Bazaar and Grand Bazaar so you can plan some shopping there if you are interested but I skipped that part. Always keep shopping for the last two days at your last stop as you don't have to carry all that luggage around your trip and Istanbul is heaven for shopaholics like me.
The next stop was the most famous ' Sultan Ahmed Mosque ' also known as the ' Blue Mosque '. Be prepared to see a lot of crowds here. I personally was disappointed to see this as the grandeur of this mosque is not as beautiful as we expect. The exteriors are gorgeous but the interior is very plain. The Sultanahmet Mosque was built between 1609 and 1617 and is also known as the Blue Mosque because of the blue tiles used to decorate the walls of its interior. The construction was commissioned by Sultan Ahmet I.The idea was to build a monument that would not only rival with the magnificent Hagia Sophia but also surpass it. It is a gorgeous site to watch at night from outside. The Sultanahmet Mosque is the only mosque in Istanbul that has six minarets and this provoked hostility at the time. Such a display was previously only reserved for the Prophet's mosque in Mecca and the sultan was criticized for thinking a bit too highly of himself. According to the most obvious urban legend, this whole issue was the result of a misunderstanding between the sultan and his architect. The sultan supposedly had asked to have altın minare (minarets in gold) and the architect understood altı minare (which means six minarets). A second, less plausible legend is that the architect decided that gold minarets were too expensive and therefore decided to make six of them. Whatever the true story behind the six minarets is, the sultan overcame the problem by paying for a seventh minaret at the mosque in Mecca.
Entry is free here, you can finish this quickly and hop on to next stop ' Hagia Sophia'.


It's just a short 5 minutes walk from here but entry is not free and expensive. There will be long queues here. The first lesson learned that day, it's actually spelled Aya Sofya, not Hagia Sophia! One of the many dreams I had was to see the inside of Hagia Sophia, now that I was there, it felt so unreal. Sometimes, you just got to look up and wonder, "How the hell did they build this place?". Is it a church? Is it a mosque? Hagia Sophia served as a church for 916 years until the conquest of Istanbul, and a mosque from 1453 to 1934 for nearly 500 years and most recently as a museum for 85 years.
Both the ground floor and the second floor of Hagia Sophia were turned into an art exhibition showing the greatest work of Islamic art. The view from the balcony really captured the scale of the place. The remnant of Christianity within the Hagia Sophia are some pictures of Christ and Mother Mary on the wall.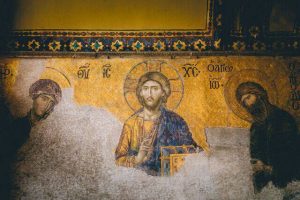 As I write this blog the government has commissioned this place back to a mosque so I wonder if entry is charged and what happens to these pictures. You could see the Blue Mosque at the very cool angle from the second floor. Even at the window, there was a line! Mosques look similar to each other in general except the Hagia Sophia which looks nothing like any mosque I've seen. After all that walking I was definitely hungry.
In Turkey don't miss to have the street food. You will get the most delicious kebabs and platters for as little as 5TL. While we sat for lunch, Istanbul experienced a mild earthquake of around 4.5 magnitude. I really did not feel anything amiss but this was my first ever.
From here we decided to head towards Topkapi Palace. This important building that has survived to the present day, hosted the Ottoman dynasty from the 15th century to the 19th century and played an essential role for the state administration and education. The building, which was converted into a museum during the Republican period, is one of the most popular destinations of history. In the palace; Specially produced clothes of the Ottoman dynasty, Turkish jewellery from different periods, jewellery from Europe and India, state medallions, candlesticks made of gold, Topkapı daggers, jewellery, ceramics, sacred relics are exhibited.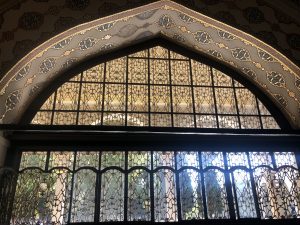 The palace is located on an area of 700,000 square meters. Topkapi Palace generally consists of a garden, hasbahçe, harem, four courtyards, and three main doors. There is a lot to walk around here but the best in the city views behind the gardens. There are a couple of restaurants which serve the best Turkish desserts, I grabbed one and sat enjoying the view of Bosphorus.
That was a long day and we decided to head to our hotel back. After a quick shower in the evening, I decided to head out solo for a cruise by the Bosphorus. It was a short walk to the boarding area and as I picked up the ticket waiting across by the fishing market next. I had a good half an hour more to go, wherein I explored this market. The people were so friendly and also spoke some Hindi, they were kind enough to get Turkish tea for me too. There was a street vendor selling fish rolls around, and I was tempted to try in that. I think that was the best roll I ever had in life and as cheap as 5 TL. I met another young traveler couple from India here and they gave me company on this cruise.

The night cruises are pleasant and it takes an hour typically. The boats are two-decker and upstairs is open. If you do not mind the cold, and well dressed in a jacket stay up there. You can enjoy the views and take a lot of pictures. The high point is when you get to see both the continents of Asia and Europe together. Just sit back and relax. After all that it was time to sleep and the next day was a long drive towards other parts of Turkey.
I returned to Istanbul on my last couple of days to explore Takshin square, catch the nightlife, met a few locals and walked around the Galata tower. However, if you need to explore this city well you need a good five days. On my next visit, I hope to return to catch the Grand Bazaar, cruise the Bhosphorous in the early hours of the evening with sunset , catch the European side of Istanbul, climb up the Galata tower to see the magnificent view, Basilica Cistern and the Dolmabahçe Palace. And last get scrubbed in a Haman … there is so much to do here. So if you plan this city, ensure you have a good time on hand. And it's safe. I never felt unsafe even when I traveled solo in the night by cabs and walking around. Just be wary as you are in your own cities and Istanbul will be a dream place to remember for a lifetime.