Two days in Zagreb and I was all geared up  to explore the next destination in Croatia, which was to Plitvice Lakes. It covers around 300 Square kilometers and is recognized as a UNESCO World Heritage Site.Plitvice Lakes National Park in the heart of Croatia is the oldest and the most thriving national park. Most prefer a day trip, however I planned to have a home stay in the woods there with a Croatian family.Thou it was just for one night, I was looking forward to the same, as any place surrounded by green is a welcome break from the city life.
So there I was driving down from Zagreb in the car, we had hired with the help of the Hostel folks.The drive from Zagreb to Plitvice is around 130 kilometers and will take around easily 2 hours.It's one of the easiest to drive thou,as you pass small towns and villages with lot of nature around.You will catch herds of sheep grazing and some beautiful grasslands.  The place we were staying was just on the outskirts of Plitvice, but looked difficult to find. After some minutes of wandering around, we finally  had one of the  family member to  come to fetch us  and was led to their house.I had booked this place through Airbnb and as I approached realized this was much better than the pictures I saw online.Here there was a beautiful wooden house, with a nice fireplace and a garden by the stream.We decided to chill out and relax a little before we hit Plitvice Lakes. It's better to hit early for this lake and carry a nice lunch pack too as the crowds get bigger.And as you enter the park, you realize why it's so popular.It's Jaw dropping sights and all those waterfalls all around make you feel out of the world. Just stunning. In total, there are 16 lakes in the national park, which are all interconnected by a series of bridges,ferry, bus, and of course – waterfalls.The park is constructed as a guided experience, where the visitor can choose his or her path around the lakes. Some routes take two hours, some can take up to eight, and for the hardcore hikers there are proper hikes that don't even fit on the posted maps around the park.
The water is pristine blue and you can see all the fishes swimming way below. We decided to take one of the trails and it was an interesting one as we walked past tall woods, bridges and waterfalls.Each lake and waterfall dotting the park is distinctly different in color than the others because the living karst rocks and travertine dams shift and change. Blindingly brilliant blue hues filled our walk. Vivid green plant –life and deep, blue –grey waters contrasted with azure lakes and turquoise waterfalls shimmering in the sunshine.The tumbling water bodies boast of turquoise water that is considered to be mineral rich and are known to possess medicinal benefits.The lakes and waterfalls exist because of TUFA formation which eventually leads to the formation of tufa barriers. Tufa is the hollow, porous rock which is formed because of the deposition of dissolved calcium carbonate in the water by plants, algae, and mosses.The lakes of various size in Plitvice Lakes National Park are a result of the biodynamic process of developing tufa barriers.
So ensure you wear comfortable shoes, carry a nice hat, sunglasses as there is a lot of walking to do. You can wear shorts if the temperature is warm but we experienced really cold weather so had to get into our Jeans for the trail. June and July are busy, warmer months and best months to visit is around May when rains are settled and not too much crowded it is. The paths through the park are well-established, the majority of which are wooden footbridges. With the exception of some steeper drops, most of the paths do not have railings – you can freely reach out and touch the running water (spoiler: it's cold!).
After a lot of walking almost close to 6 hours we decided to finally get back via the train inside. They have boats and trains in which you can take to travel within. The food inside the park is very steeply priced so I suggest you carry some food or eat out. We drove back to our Airbnb house in a daze after much fun and a pretty awesome day. We made a quick pit-stop for some snacks and to pick some stuff for our breakfast next day. The blatantly gorgeous scenery overloaded our brains as we settled back to spend time besides the little stream flowing by the house.There was a swing too in the garden which my daughter enjoyed thoroughly.The host family we were staying with were not so good with conversant English so we just had some chit chat with whatever little we could. They were nice to even send in a plate of waffles for us over dinner.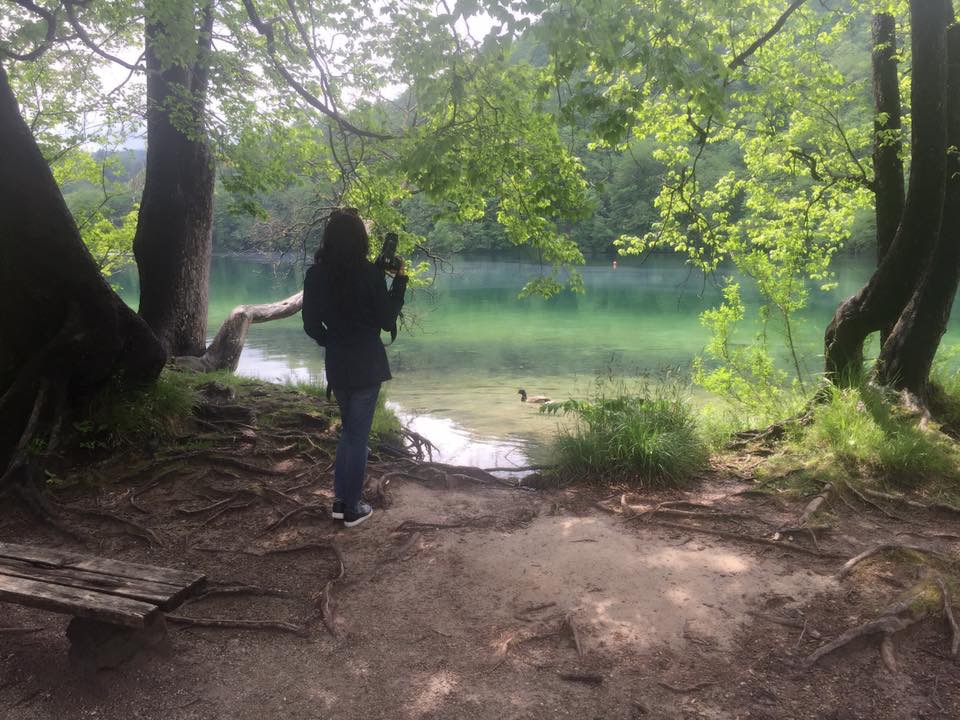 The temperature had dropped for the night dramatically  and we had to get the fireplace lit in before we crashed in after all that walk for a good slumber overnight. Next day morning would be our long drive to Split from here, and I really wished that I had one more day here. Will surely recommend you stay two days to soak in this beauty of a place.