So it's been really long that I penned down my travelogues here . The inertia was definitely not to write but all my energy was consumed by my journeys in the past few months after I quit my regular banking job . But I had to get back to what got me starting and here I am to finish my Italy odyssey. Post Florence my next stop was ' Civita' .

Now this is one place which most pay a day trip but I was sure I would love to stay back with one of the families . I had a wonderful host through Airbnb which was Gaia and her husband welcoming me to their unique home on the hillside which I booked for two days.Travelling to here is easy by Florence as you take a train to ' Orvieto' . It's a couple of hours journey and there you have arrived . Our host promised to pick us from the station and he was well in time . As we drove the conversations grew interesting as he was as much intrigued about ' India ' as we were of ' Italy ' . My first glimpse of ' Civita' was in awe was it stood on a hill top staring back deep at me.
If you observe it from a distance as it clings to the edge of the precipice which seems to be attacking it from all sides, the village of Civita di Bagnoregio seems like a ghost town , something that could exist only in the mind of a visionary or in a dream remembered.
Especially on certain misty mornings that little group of houses seems to float surrounded by a fog of unreality. Civita, like an island in our memory or a figment of our imagination, is connected by a single narrow cement walkway to reality and to the surrounding countryside; it is inaccessible to modern means of transportation and takes us far away, not so much in distance as in time.So no vehicle can go up that bridge and you have to drag your luggage up there . Since our host knew the people around he put someone in charge of our bags which was a blessing.
In fact, as one gradually starts to cross this walkway suspended in the air – only 900 feet, but it seems endless – there is a feeling that one is leaving the real world, and this feeling becomes even stronger after entering the ancient city gate of Santa Maria, standing guard over a sheer drop between the remains of two houses with their windows opened wide over the emptiness. One almost has the impression that this gate opens into a supernatural world, surviving in another dimension.The sensation of emptiness, the void can almost be touched: a street which drops off into the precipice, the facade of a house with nothing behind it.
The miracle of Civita is this: a remnant of the past miraculously surviving the passage of time and natural adversities which have changed a rich and prosperous city into a dying town, destined to perish but still clinging to life. This refusal to die is evident in the stubborn persistence of the people who still remain (only about twenty people live in the town all year round; in the Summer the population is about 100), in the meticulous care with which the streets and houses are maintained, and in the enthusiasm for the initiatives which have sprung up for the purpose of giving it new hope to continue to exist. You can feel history in the smooth cobblestones under your feet .
Inside the gate, the charms of Civita are subtle. Those searching for arcade tourism won't know where to look. There are no lists of attractions, orientation tours, or museum hours. It's just Italy. Civita is an artist's dream, a town in the nude. Each lane and footpath holds a surprise. Ivy drapes over arches and scrambles up walls; potted flowers parade across balconies, cats meowing all around. The warm stone walls glow, and each stairway is dessert to a sketch pad or camera. This once was seven times bigger but now out of the seven churches only one remain .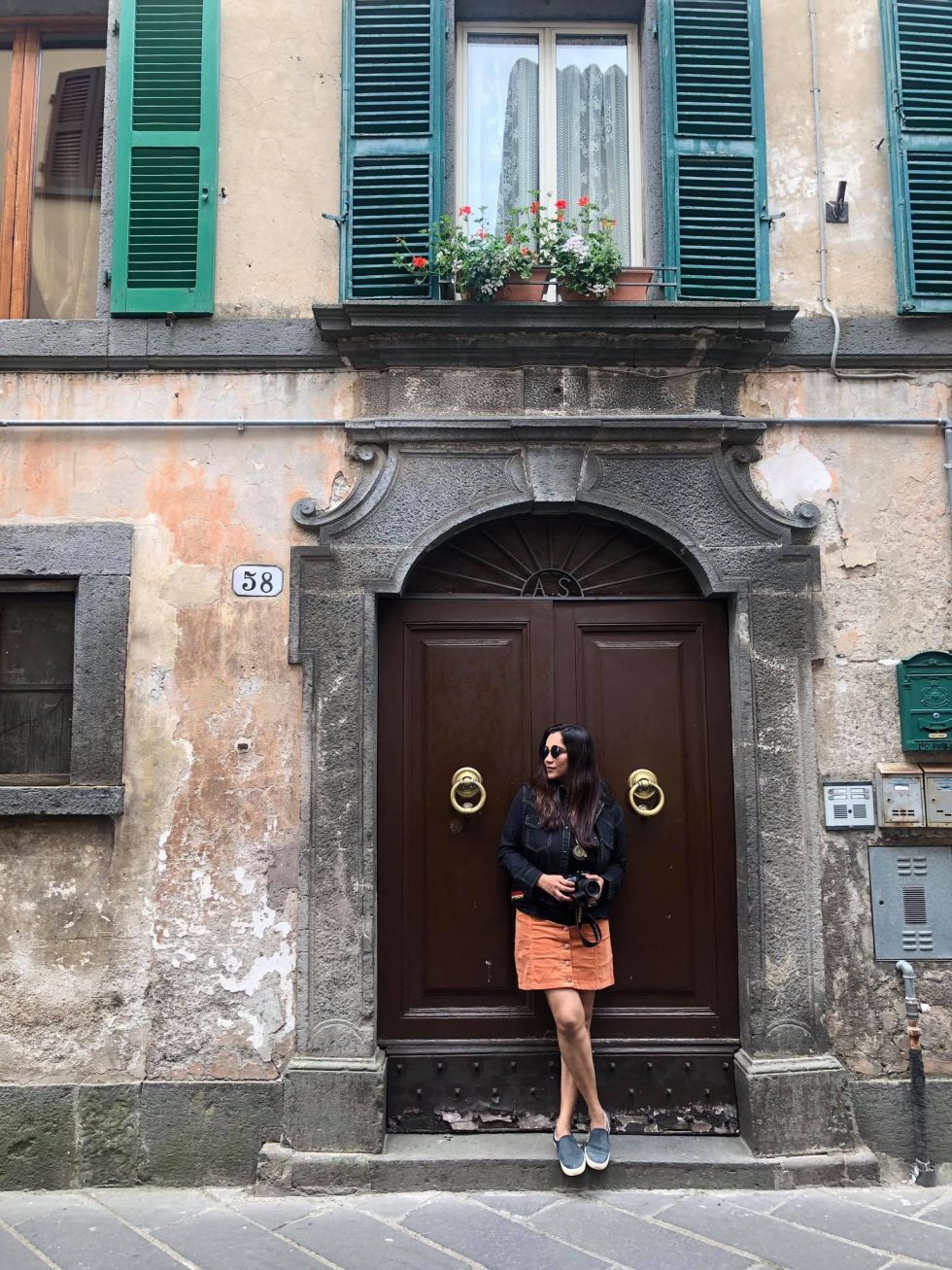 Civita di Bagnoregio is perched on top of a hill at an altitude of 1440 ft. above sea level, between two valleys running in an East-West direction and in which two streams flow: the Rio Chiaro to the North-East and the Rio Torbido to the South. The hill is made up of a layer of tufa (a soft volcanic stone typical of central Italy) about 200 ft. thick which was formed after a series of volcanic eruptions between 700,000 and 125,000 years ago. This layer of solidified lava lies on an unstable base of clay and sand. The numerous shell fossils which have been found in the terrain have made it possible to date the formation to about a million years ago, i.e., to the Lower Pleistocene era.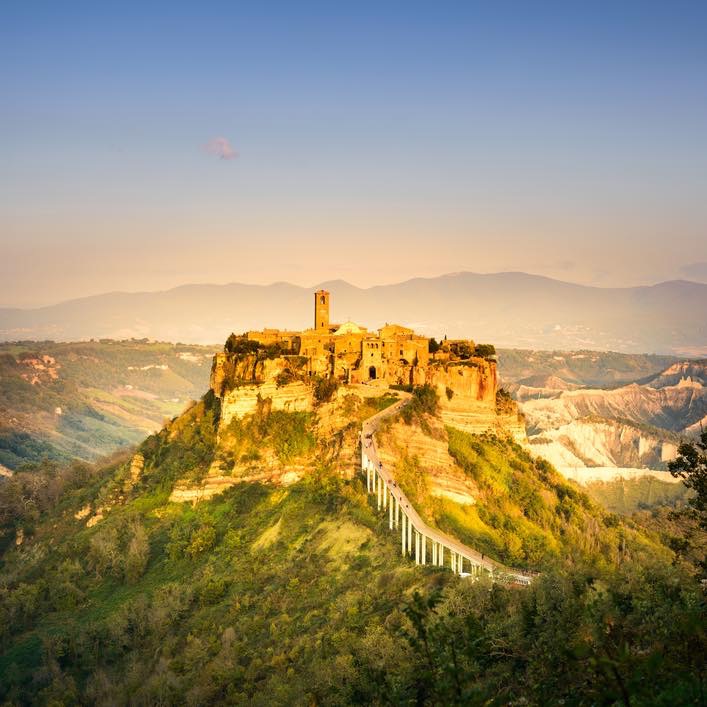 This was a period of major geological upheaval in which volcanoes sank and lakes arose from the bottom of the sea in the area between the river Tiber and the Tyrrhenian Sea. The clay on the bottom of the valleys is continually eroded by the two impetuous streams and washed away by the torrential rains, leaving bare portions of the tufa bank above, which, without a solid base, soon breaks off and crumbles to the bottom of the valley, leaving new banks of clay exposed along the slopes, and so the whole process of erosion starts over again.The terrain where Civita stands is therefore particularly unstable and this problem must have become apparent even to the earliest Etruscans, as the many archeological finds would tend to indicate, or perhaps even Villanovan (9th-8th century BC) according to some scholars on the basis of a few artifacts which, however, were both fragmentary and without archeological context. So most families have abandoned the place . I was super impressed by my host who sold their home in Rome to move in here .
My two days in here flew by as I soaked in its beauty . The second night I remember was heavy rains and a flash lightning that hit by the bedroom wall outside which caused an electricity outage. Much memories here .With no post office, supermarket, chemist, hospital or school, the Civita of today caters to its main breadwinner: tourism. If you plan to visit this town do it on a weekday as weekends are flooded with day tourist . It's a quick stop ever between Rome and Florence and I am sure you will love it .Civita was called 'the dying city'. Today Civita is not only alive but it's keeping the entire area alive too."